If you are constantly hearing how sweet you are – be aware: it could be literal truth! Your face or even whole body can be 3D printed in chocolate form but will it be sweet to you to, that's a whole new story…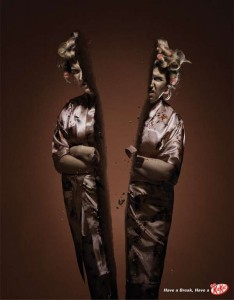 Would you like to lick and bit choco-stick or lollipop version of Beyonce? Or you prefer such sweets in Robert Pattinson's look and feel? Or both? Or what ever you prefer…
Well, 3D printers are going to make your fantasy come true.
But it also means that somebody will be able to 3D print you in chocolate not just for fantasy but also to make profit out of your personal identity.
Or even to 3D print you in plastic or other materials to make a mask or a doll that resembles you for use in illegal activities.
Do you still think that's sweet?
This disruptive innovation will first hit companies that create tangible, three-dimensional objects that are no longer immune to the risks of file sharing that the music and film industries have dealt with for more than a decade according to San Francisco law firm Morrison & Foerster.
It will impact personal identity brands and question privacy laws in next decade or so. It will question right-of-publicity.
"A bobble-head doll of your favorite athlete or actor could be yours at the click of a button, with no control by or compensation to the celebrity whose image is being misappropriated", said Craig Whitney, a senior litigation associate at Morrison & Foerster.
And we aren't talking about distant future.
Since 2012. in Tokyo, New York (in London also) and South Africa you can 3D print yourself and get pocket-size mini-me copy starting from $260 (price is dropping constantly).
In Tokyo it's a regular service just like taking photo at professional.
We are talking about even bigger trend in the next few years. Patent for 3D printing has expired and tech companies are heading towards mass production of 3D printers.
For now privacy industry is just thinking of new solutions for 3D printing industry.
They could be sweet.