Identity And Access Management Market hit $5,13 billion in 2013 at is expected to double in the next three years in some surprising new areas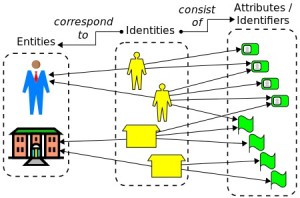 The Global Identity and Access Management (IAM) market is worth $5.13 billion in 2013 according to two online reports Global Privileged Identity Management Market 2014-2018 and IAM Market – Global Advancements, Forecast & Analysis (2013–2018). It's a booming market that is expected to double in size at $10.39 billion by 2018.
That is CAGR 15.1%. And according to first report the CAGR will be even higher, at 26.6% over the period 2013-2018. So there are plenty of new business opportunities there based on identity i.e. privacy industry.
Identity and Access Management market consist of on premise and cloud IAM divided in components like provisioning, directories, SSO, Advanced authentication, Password Management, Audit, and Compliance & Governance. Wikipedia describes Identity management as the management of individual principals, their authentication, authorization, and privileges within or across system and enterprise boundaries with the goal of increasing security and productivity while decreasing cost, downtime and repetitive tasks.
What we are really talking about are businesses related to  Active Directory, Service Providers, Identity Providers, Web Services, Access control, Digital Identities, Password Managers, Single Sign-on, Security Tokens, Security Token Services, Workflows, OpenID, WS-Security, WS-Trust, SAML 2.0, OAuth, RBAC etc.
Second report states that the main driver of IAM Market are cloud IAM services which are lowering cost and complexity of IAM projects implementations. Cloud IAM services have open this market for Small- and Medium-sized Enterprises (SMEs) based on new attractive pricing models like monthly subscriptions, usage-based pricing etc.
The biggest market in terms of revenue will be North America and the biggest growth is expected in Asia Pacific.
The key vendors dominating this market space are BeyondTrust Software Inc., CA Inc., IBM Corp., and Lieberman Software Corp. But there are also Dell's Quest Software Inc., Cyber-Ark Software Inc., Novell Inc., Xceedium Inc., Fischer International Identity LLC, NetWrix Corp. and Acceleratio Ltd.